Bookings of hotels, transportation, tours, activities and attractions in Thailand and other Southeast Asian countries can be easily done with our trusted partners. Being active travelers, we are often using the services of these well known companies and that's the main reason why we recommend them to our readers.
If you will book your hotels, transportation and activities via our website, you will get the best deals and at the same time you will support our work (it won't cost you any extra!). Consider booking hotels, transportation, tours, activities and attractions in Thailand and other Southeast Asian countries via the links below if you find our website useful. Thank You!
Hotel Deals
Booking.com is the most popular website in the world for hotel bookings online and in most cases we start our search of accommodation from it. Here you will find quick links to the hotels on Booking.com in all Southeast Asian countries, covered on our website:
Hotel deals on Booking.com can be found by using the search form below.
Agoda.com is another hotel booking system which is especially popular in Thailand and other Southeast Asian countries. A number of accommodation options offered by Agoda.com is higher than in Booking.com when it comes to Thailand and Southeast Asia.
Another reason why we use Agoda.com more often than any other online booking system is a discount and cashback often offered for online payments via Agoda.com. This option is less flexible than payment at the hotel but it can really help you to save some money so we recommend comparing hotel deals on both websites before making your final decision.
One more convenient option offered by Agoda.com is that if you are looking for a place to stay while in Thailand, you can now pay for your hotel booking on Agoda.com at 7-Eleven in Thailand!
Hotel deals on Agoda.com can be found by using the search form below.
Train, Ferry, Bus Tickets
Bookaway is a very useful tool for planning a trip around Thailand and other Southeast Asian countries. Bookaway offers a wide variety of transportation in one place. On Bookaway you can compare prices and lengths of your journey by various means of land and sea transportation (trains, ferries, buses, minivans and private taxi) and conveniently book your tickets.
Booking your tickets online in advance is recommended if you are planning to travel during high season (especially during winter holidays or Songkran festival in Thailand), if you are going to use a popular route (for example, night train Bangkok - Chiang Mai) or if you're on a tight schedule and have a specific departure time in your mind. Bus or train tickets could cost you less if purchased at the station but booking tickets on Bookaway gives you an additional value.
And now we have a special gift for all THAI.LT readers - you can get 5% off on your Bookaway orders when using coupon code THAILT5 during the payment for your order!
Bookaway is constantly expanding and new countries, cities and services are added up to their list. If you are planning to include several countries in your trip around Southeast Asia, you can avoid signing up on a number of booking systems in each country, as Bookaway covers most of the services.
The most popular routes between our readers are:
For more ground and sea transportation options use the search form below.
International Flight Tickets
If you are looking for a flight to Thailand or another country in Southeast Asia, really good flight deals can be found on Trip.com and Kiwi.com. We would recommend checking both flight search systems and compare prices as for different flights any of them can offer better price.
Trip.com helps you find the best choice of flight tickets and discount airfares to Thailand and other destinations all around the world. Their search results provide the most up-to-date prices for flights worldwide, along with real-time flight statuses, duration, and departure and arrival times to help visitors find cheap flight tickets quickly.
Kiwi.com is another flight search engine that is worth trying as sometimes here you can find different connections that are not offered by other search engines.
Domestic & Regional Flight Tickets
12go.asia is another useful tool that can be used for booking domestic and regional flights in Thailand and Southeast Asia. 12go.asia also offers other means of transportation.
Domestic and regional flight tickets can be found using the search form below.
Tickets to Attractions
Do you know that you can get tickets to various attractions in Thailand and other Southeast Asian countries significantly cheaper than you would pay at the door? We didn't know about it a couple years ago until we accidentally came up to the websites of KLOOK and Trazy.
KLOOK is the leader in the Southeast Asian market of attraction tickets resale. They offer not only attraction tickets, various activities and tours, but also travel essentials like local SIM cards, private transport to/from the airport and much much more. Check what deals KLOOK has for you in these countries:
The list of countries covered by KLOOK doesn't end with Thailand and Southeast Asia as it has many offers in countries around the world. For finding more offers on your next travel destination use the search form below.
Trazy is another online system providing discounted attraction tickets that is worth checking. So far Trazy covers only 3 countries but when it comes to attractions in Thailand, South Korea and Vietnam, they can often beat the price offered by KLOOK.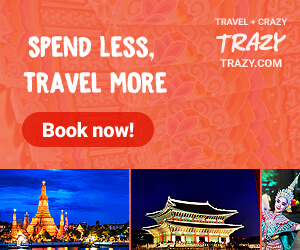 We would recommend checking the websites of both suppliers and comparing prices of attraction tickets for getting the best attraction ticket deals in Thailand.