Thailand's floating markets are called "talat nam". They are the most photographed attractions in the country. Going to floating markets is well worth putting on your list of things to do in Thailand. If you wish to experience real Thai shopping, you should visit one of floating markets in Bangkok. What is the best Bangkok floating market 2019?
Even if Damnoen Saduak is the biggest and most famous floating market in Thailand, Amphawa Floating Market is more authentic and very popular with the locals for weekend shopping. Your shopping experience at Amphawa Floating Market will be much more local than at Damnoen Saduak so it's really worth to visit it from Bangkok.
As Amphawa Floating Market is not far from Bangkok, it makes this place a popular weekend destination for both locals and tourists who like to come here and enjoy a relaxing Thai style shopping atmosphere. If you are staying around Bangkok during the weekend, try to get out from the city and spend at Amphawa Floating Market one evening.
Bang Nam Pheung is a small village not far from central Bangkok, located in Phra Pradaeng district in Samut Prakan province, on the other side of the Chao Praya River. Bang Nam Pheung Floating Market is situated along the canal. This floating market is very popular with locals and only few tourists can be seen hanging around.
Bang Nam Pheung Floating Market is quite big and has many interesting things to offer - delicious food, drinks and snacks. You can find an area for music and souvenir shop there too and can delight yourself by buying local products such as coconut shells, clothes, woven handbags, and handicrafts etc.

Khlong Lat Mayom Floating Market is a great place to visit as you can experience the real Thai-style floating market there. The market is located in Taling Chan area, which is a little outside Bangkok, but it's really worth to visit.
Khlong Lat Mayom Floating Market itself is big and offers a great atmosphere and large variety of local authentic Thai Food. The market is popular with locals who come here for food or shopping. You won't see many tourists here. Khlong Lat Mayom Floating Market is more like a riverside market because the shops are located on the ground near the canal.
If your time in Bangkok is limited but you still want to experience real Thai shopping at one of the floating markets in Thailand, Taling Chan Floating Market can be an easy choice. We would suggest you to visit it if you are staying in Bangkok on the weekend.
Taling Chan Floating Market is basically a small market with a handful of boats cooking food around it. A number of stalls selling household goods and clothing can be found here too, but most of the market is dedicated to food and that's a really good thing. Be sure to go there with an empty stomach and try all the delicious food.
Kwan Riam Floating Market is one of the newest floating markets in Bangkok. Located on the outskirts of Bangkok, Kwan Riam is a good example of the modern Thai floating market. Kwan Riam Floating Market is a really charming place because of its location between two ancient temples Wat Bamphen Nuea and Wat Bang Peng on both banks of the San Saeb canal.
One of the highlights of Kwan Riam Floating Market is people offering alms to the monks in the early morning. People gather on the banks of the canal at 7.30am and give food to the monks passing by on the boat along the canal.
Kwan Riam Floating Market offers good selection of food and shopping opportunities. Here you can find traditional Thai food, Isan food, Thai desserts, clothes, handmade bags, handmade crafts and household items, souvenirs and much more.
Visit one of these floating markets in Bangkok and enjoy real Thai shopping experience!
If only weekdays are included in your stay in Bangkok but you still want to visit a floating market, going to Damnoen Saduak Floating Market is your best choice. Damnoen Saduak Floating Market is the most popular floating market in Thailand but with the fame the market lost its charm. Even if this floating market is tourist orientated and very crowded, it is still a good place for taking some stunning pictures.
Damnoen Saduak Floating Market is located about 110 km from central Bangkok. Getting there by public transport is complicated and time consuming, so joining the tour on a half-day trip is the most convenient option. You won't need to worry about transportation and even a boat ride in floating market will be included.
Book your Damnoen Saduak Floating Market Tour online and discover Thailand's biggest floating market hassle-free.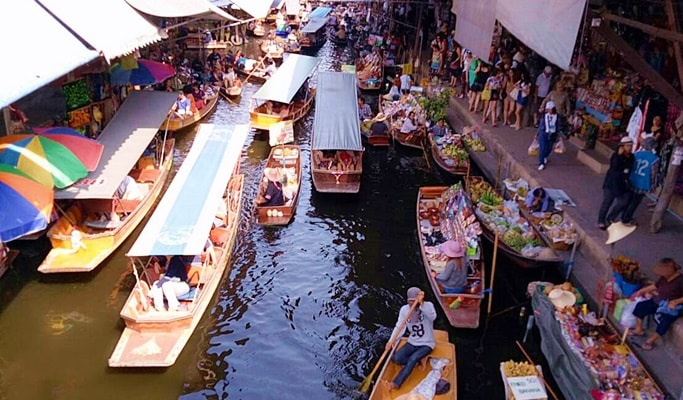 On weekends a visit from Bangkok to Damnoen Saduak Floating Market can be combined with other Thailand's iconic markets - Maeklong Railway Market and the weekend Amphawa Floating Market. 
All three markets (Damnoen Saduak, Maeklong and Amphawa) can be visited in a day if you will join in this tour: Thailand Floating Markets Day Trip.