Hua Hin, meaning 'stone head', is a seaside resort city in Thailand, only about 200 km south of Bangkok. It's the oldest and most traditional holiday resort in Thailand. Here you can find the comfort and attractions of a modern travel destination mixed with the charm of still active fishing port. Hua Hin is popular not only with foreigners but with Thais too, especially Bangkok residents.
Besides its 8 kilometre long beach Hua Hin provides historical sites, golf courses, shopping opportunities, various accommodation options and great restaurants. Hua Hin is more laid-back than Pattaya, making it ideal for families, couples and travellers who just like easy holidays in the tropics.
Attractions in Hua Hin
Hua Hin Beach : หาดหัวหิน
Hua Hin Beach is the only beach in this resort city. It is 8 kilometre long sandy strip which stretches from the north of Hua Hin to Khao Takiab. Hua Hin Beach is never over-crowded and offers lots of family-friendly activities between sunbathing and swimming. Hua Hin is also a popular place to take a long stroll along the seashore.
There are rock formations on the main beach – the city was named Hua Hin or 'stone head' under them.
Khao Takiab : เขาตะเกียบ
One of the biggest attractions in Hua Hin is the mountain Khao Takiab, meaning 'Chopstick Mountain', which is situated at the southern end of Hua Hin Beach.
Khao Takiab is home to Thai temple Wat Khao Takiab. 19 metres tall standing Buddha (Phra Pang Haan Yad) meets visitors at the entrance to the temple.
This hilltop temple offers spectacular panoramic views of Hua Hin, especially nice early in the morning.
Hua Hin Railway Station : สถานีรถไฟหัวหิน
Hua Hin Railway Station is only a short distance from the centre of the city. It was built during the reign of King Rama VI. The main building of Hua Hin Railway Station and the adjacent royal waiting room are very attractive and it is Thailand's most beautiful railway station. These brightly painted wooden buildings are a good example of authentic Thai architecture making Hua Hin Railway Station a must see attraction.
Wat Huay Mongkol is a must see temple in Hua Hin. The temple is situated about 15 km from Hua Hin. It has the largest statue of the Buddhist monk called "Luang Phor Thuad", who lived from 1582 to 1682. The holy monk is very well known in Southern Thailand for converting sea water to plain water by foot. This is one of the most popular and sacred places for Thais.
Shopping in Hua Hin
Hua Hin Night Market : ตลาดกลางคืนหัวหิน
Hua Hin Night Market is located in the centre of the city, on Dechanuchit Road and Soi 72 that runs between Petchkasem Road and the railway line. The market starts every night around 6 pm and ends around 11 pm. Hua Hin Night Market is the most popular local market, offering wide variety of places to eat and shop.
Hua Hin Cicada market is a weekend night market, open every Friday to Sunday from 4 pm to 11 pm. It is located on Khao Takieb - Hua Hin Road, at Hua Hin 87. It is a place filled with food stalls, handicrafts, and the local artists. Things here are not cheap but reasonably priced.
Check Shopping in Hua Hin for more shopping opportunities in this Thai resort city.
What to Do in Hua Hin
Vana Nava Water Park is one of the finest water parks in Thailand. Not only tourists but people from all over Thailand come to this water park for amazing rides as there's something for everyone here. At Vana Nava Water Park you will find thrilling rides and slides not far from Hua Hin.
Book your Vana Nava Water Park ticket online and enjoy the park and its 19 amazing rides for a discounted price.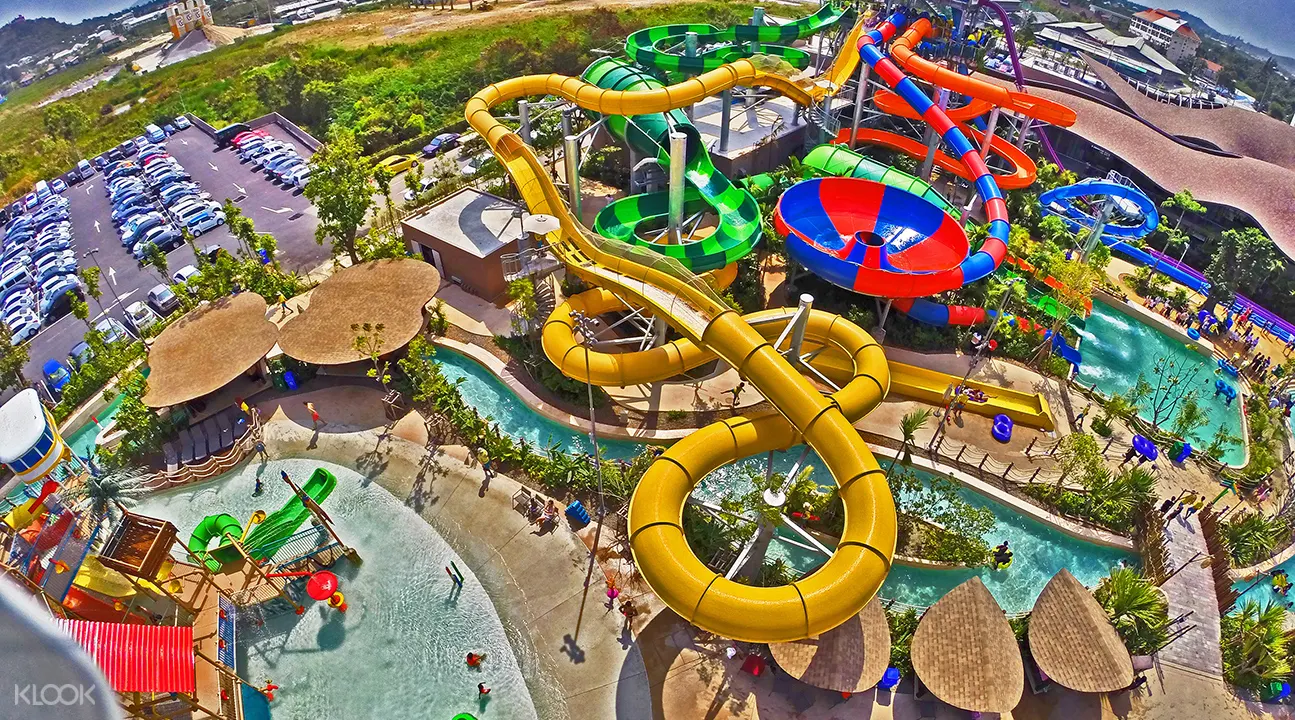 If you like kitesurfing, Hua Hin is definitely for you to visit in Thailand.
Where to Stay in Hua Hin
You should choose Hotel in Central Hua Hin if you want to stay in central location near Hua Hin Beach and Hua Hin Night Market. Very popular location with even more accommodations is Khao Takiab area. Find your place to stay in Khao Takiab area here: Hotels in Khao Takiab, Hua Hin.
For more places to stay in Hua Hin check Hotels in Hua Hin on Booking.com or Hotels in Hua Hin on Agoda.com.
How to get around Hua Hin?
There's no public bus in Hua Hin but you can get local transport songtaew for getting around Hua Hin.
How to get to Hua Hin?
Hua Hin is located just about 200 km south of Bangkok and can be easily accessed from there by bus or by train.
Buses to Hua Hin
Buses to Hua Hin leave Bangkok Southern (Sai Tai Mai) Bus Terminal 3 times a day (11:30, 14:00 and 16:00) and it takes about 3 hours to get there, depending on the class of a bus and the traffic.
There are also buses to Hua Hin from Bangkok's Suvarnabhumi Airport running daily every 1.5 hours from 07:30 to 19:30. For current schedule and online bookings check Airport - Hua Hin bus website.
Minivans to Hua Hin are also available at all 3 main Bangkok's bus stations. Minivans depart from Ekkamai Bus Terminal to Hua Hin every hour from 06.00am to 07.00pm for 180 baht. It takes about 4 hours to get to Hua Hin from Ekkamai. The minivans make stops in Phetchaburi and Cha-Am. Minivans to Hua Hin also leave from Mochit Van Terminal. 
You can also get a minivan running to Hua Hin from other cities south of Bangkok. If you are staying in Kanchanaburi, you can get a minivan going to Hua Hin as well.
Train to Hua Hin
Getting a train is an easy way to get to Hua Hin from Bangkok as most of Southern Line trains stop at Hua Hin. Trains to Hua Hin leave Bangkok's Hua Lamphong Railway Station and Thonburi Railway Station 10 times daily. Hua Hin Railway Station is conveniently located in the centre of the city.
Flights to Hua Hin
Hua Hin Airport (HHQ) currently has only one connection with Chiang Mai but the schedule isn't very stable as the carrier serving this route isn't reliable.  
You should choose a flight to one of Bangkok's airports instead. There is even a direct bus route from Suvarnabhumi Airport (BKK) to Hua Hin making traveling to this seaside resort much easier.
Weather in Hua Hin
Hua Hin has only two seasons - the wet and the dry. Between November and May the weather is mostly dry with little rain expected for much of this time.
Wet season in Hua Hin occurres between May and October. Despite being on the Gulf of Thailand coastline, Hua Hin experiences slightly different rain patterns than other east coast destinations with serious rainfall only occurring in September and October.
For the best time to visit Hua Hin check our weather ratings chart.
| Jan | Feb | Mar | Apr | May | Jun | Jul | Aug | Sep | Oct | Nov | Dec |
| --- | --- | --- | --- | --- | --- | --- | --- | --- | --- | --- | --- |
| ★★★★★ | ★★★★★ | ★★★★☆ | ★★★★☆ | ★★★☆☆ | ★★★☆☆ | ★★★☆☆ | ★★★☆☆ | ★★★☆☆ | ★★★☆☆ | ★★★★☆ | ★★★★★ |
After visiting Hua Hin you are planning to continue your trip up north or down south? Check when is the best time to visit Thailand's other destinations and choose your next destination.