Phuket is the largest island of Thailand. Phuket is situated in the Andaman Sea waters off the west coast of Southern Thailand. The island is among the finest beach destinations in the world offering magnificent bays, fine palm-fringed white sand beaches, glittering seas, picturesque small surrounding islands, delightful Sino-Portuguese architecture and memorable hospitality of local people to millions of visitors.
Phuket and surrounding islands are ideal for sailing, diving, snorkelling and other kinds of water sports. Thailand's largest island is also a perfect base for visiting nearby tropical paradises, such as magnificent Koh Phi Phi Islands and mystical Phang Nga Bay.
There are plenty of accommodations available for any taste and budget, a wide choice of dining options and the famous nightlife in Phuket.
Beaches in Phuket
Phuket is surrounded by more than 30 magnificent beaches and the most popular beaches on the island are Patong, Kata, Karon and Kamala. These beaches on the south-west coast are typically very crowded, but in the north of the island you can find far more tranquil beaches offering romantic atmosphere.
Patong Beach is the most popular beach of Phuket. Here you can find a wide variety of restaurants, beer bars, go-go bars and nightclubs, most of them situated on just one street – Bangla Road. Patong beach is 3 km long white sandy beach that is perfect for swimming, sun bathing, and enjoying snorkelling, jet skiing, windsurfing and other water sports.
Kata Beach is wide 2 km long beach gently sloping into the Andaman Sea. The beach is lively and the nightlife here is fun, but not as noisy as Patong. There are several good restaurants, shops, viewpoints and various fun activities such as jet skiing, banana rides, water skiing, diving to local coral reefs and other water sports.
Karon Beach is one of the most beautiful and the third longest beach on the island. The beach is quieter and more relaxed than Patong which is nearby. This makes Karon a great place for people who want to stay in a more laid-back atmosphere but wish to have nightlife, shopping and various attractions not too far.
Kamala Beach is a long beach with a relaxed atmosphere which is just a short distance to the north from Patong. The northern end of the beach is peaceful for most of the time and the southern end can get quite busy in the high season. The beach is perfect for people who want to take it easy, and spend lazy days on the quiet beach.
6 km long Bang Tao Beach is the second longest beach of Phuket. This tropical white sand beach with the turquoise waters of the Andaman Sea is perfect for people looking for a relaxing escape. Bang Tao Beach is a quiet destination with just a few shopping and nightlife entertainment options.
Mai Khao Beach is one of the most natural and quietest beaches of Phuket. At 11 km, it is the longest beach on the island. Mai Khao Beach is far from everything and no nightlife activities can be found here. Most of the beach belongs to Sirinath National Park.
Rawai Beach is best known for its palm-fringed stretch of sand. The beach offers scenic views to nearby islands but isn't suitable for swimming. Many long-tail boats are anchored along Rawai Beach as it's the departure port for visiting Coral and Racha islands.
Nai Harn Beach is quiet and tranquil beach with white powdery sand and crystal clear water. The beach is not overdeveloped yet with only some great local restaurants and little other attractions around. Nai Harn Beach is a good place for people seeking solitude.
Lined with tall casuarina trees, Surin Beach is a beautiful white sand beach with clear water. Its remarkable natural beauty offers a peaceful stay. With limited attractions in the area, Surin Beach is a good place to escape and relax away from big crowds.
Island Tours
Phuket is a great base for day trips to surrounding islands. When booking your tours to the islands online, you can save money and escape dealing with tour operators. Tours from Phuket to the islands can be found here:
Attractions in Phuket
Phromthep Cape
Phromthep Cape (Laem Phromthep) is located at the southernmost point of Phuket island. This picturesque cape is believed to be the best place to watch sunsets not only in Phuket but all Thailand.
There is also a shrine surrounded by hundreds of elephant statues and carvings in all sizes and colours nearby.
Big Buddha
Phuket's Big Buddha or Wat Phra Yai houses the largest Buddha image in Phuket. The temple is situated on the top of Khao Nak Koet mountain and offers spectacular panoramic views of Phuket and the surrounding islands. Big Buddha can be seen from many distant places in southern part of the island.
Phuket FantaSea
Phuket FantaSea is an impressive place inspired by Thailand's rich and exotic heritage. This stunning themed complex is packed with a multitude of family-friendly activities and entertainments. At Phuket FantaSea you will find a carnival village with games, handicrafts and shopping. There's also a 4,000 seat themed restaurant offering a grand buffet of Thai and international cuisines. The highlight of Phuket Fantasea is a breath-taking theatrical show, displaying Thailand's myths, mysteries, grace and beauty.
Book your Phuket FantaSea ticket online and enjoy this fantastic show cheaper.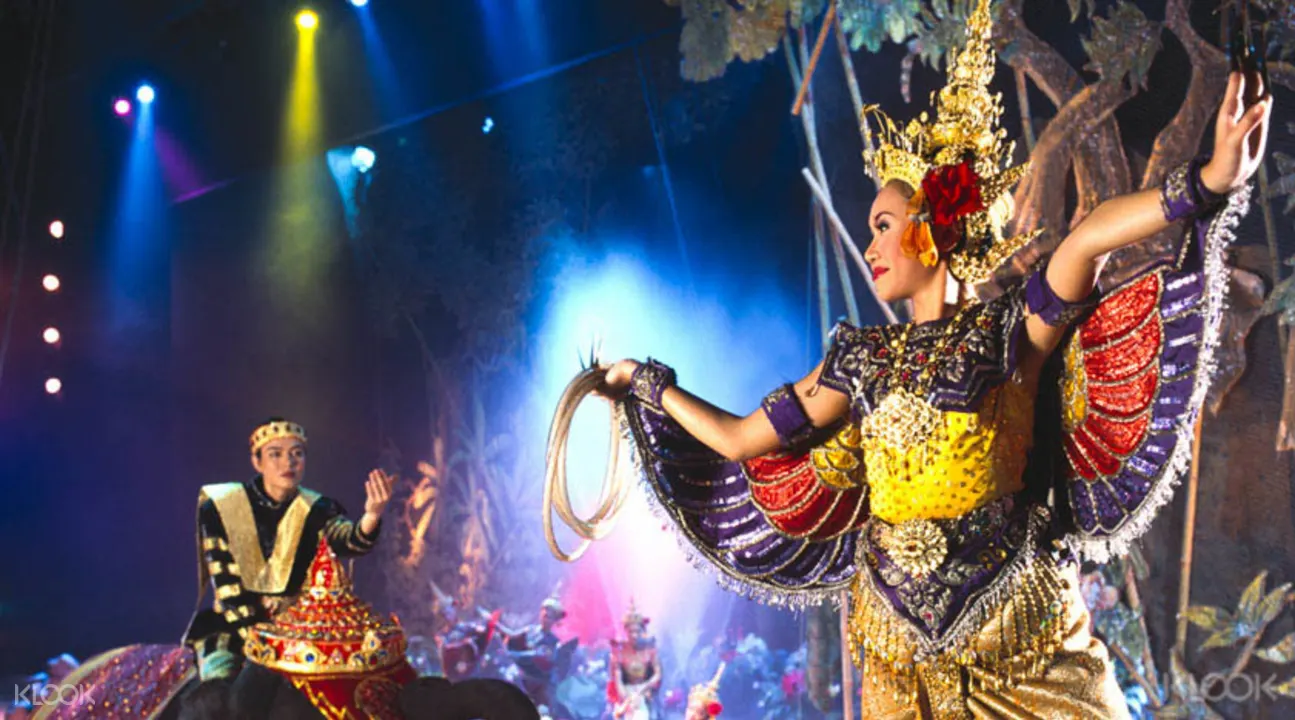 Simon Cabaret Show
Simon Cabaret Show is a ladyboy cabaret show in Phuket. Colorfully dressed ladyboys present nice music and dance performance during the show. Visiting one of ladyboy shows in Thailand is really a unique experience and Simon Cabaret Show is a good choice if you want to get familiar with this kind of entertainment while staying in Phuket. Plan your visit to Simon Cabaret Show in advance, buy your ticket online at Phuket Simon Cabaret Show Discount Ticket and you will save significantly.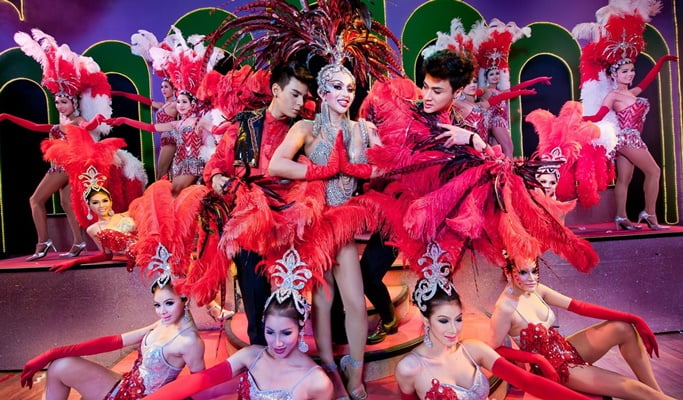 Bangla Boxing Stadium
Located in the heart of Phuket, Bangla Boxing Stadium is a good place to see real Muay Thai (Thai Boxing) fights while staying on the biggest island of Thailand. Watching real Muay Thai matches isn't cheap but you can save some money if you will not buy the ticket at the entrance but will book it online here: Bangla Boxing Stadium Discount Ticket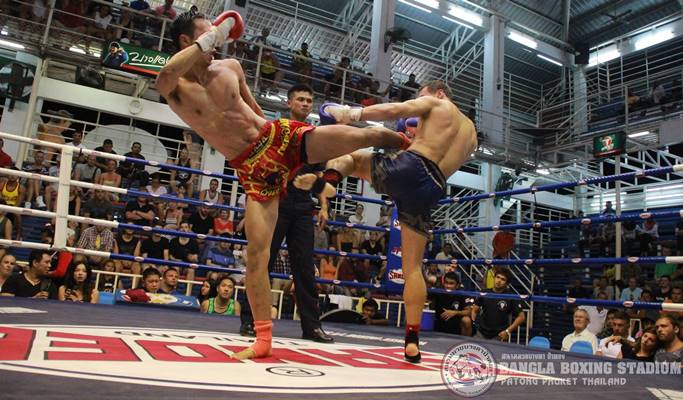 Siam Niramit Show
Siam Niramit Show is a must-see performance in Thailand as it presents Thailand's history and culture in breathtaking theatrical performance. If you missed the show in Bangkok, watching Siam Niramit Show in Phuket is definitely worth it. Booking a discounted ticket online gives you an opportunity to enjoy this show cheaper than buying it at the door.
Where to Stay in Phuket
Phuket is the largest island in the country and attracts millions of tourists every year. The island is capable to accommodate travelers of any taste and budget so you will definitely find something for yourself here. If you want to be at the center of nightlife and entertainment, you should stay at Patong Beach or Kata Beach. More relaxing atmosphere can be found at Karon Beach and Kamala Beach. If you are planning to take many tours to the surrounding islands, staying at Rawai Beach is the most convenient option. Choose to stay at Bang Tao Beach, Mai Khao Beach, Nai Harn Beach or Surin Beach if you are willing to escape biggest crowds of tourists. Cheapest accommodation options can be found in Phuket Town.
For more places to stay in Phuket check Hotels in Phuket on Booking.com or Hotels in Phuket on Agoda.com.
How to get to Phuket?
Ferries to Phuket
There are ferries going to Phuket from Koh Phi Phi, connecting it with Krabi and Koh Lanta.
Check for the schedule of ferries and book tickets here:
Buses to Phuket
There are regular bus services from Bangkok Southern (Sai Tai Mai) Bus Terminal to Phuket.
Check for the schedule of buses and book tickets here:
Flights to Phuket
Phuket International Airport (HKT) is served by plenty of domestic and international flights so you will never be short of options to choose a flight to Phuket. Good deals for international flights to Phuket can be found here: International Flight Deals.
There are plenty of options when choosing a flight from Bangkok to Phuket that can be found here: Flights from Bangkok to Phuket.
If you are flying directly to Phuket and need Visa on Arrival, check for more information here: Visa on Arrival at Phuket Airport (HKT).
Private transfer from the airport to your hotel can be booked here: Phuket Airport Transfers (HKT) for Phuket & More.
Weather in Phuket
Phuket has only two seasons - the wet and the dry. Weather conditions are at their best in Phuket from November to March. From March to May the temperature rises as the cooling wind departs and the humidity rises. In April monsoonal weather usually arrives, which is expected to last until October. Peak rainfall levels are usually experienced in September and October.
For monthly weather rating and the best time to visit Phuket check Weather in Phuket.